Around the hotel and Lake Gérardmer
Head out to discover a breath-taking mountain terrain!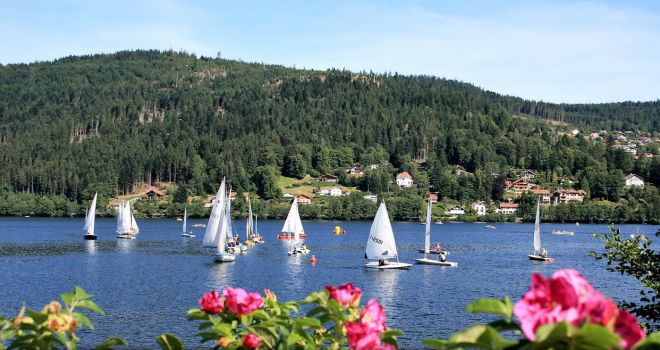 According to legend, Gérardmer owes its name to the Duke of Lorraine, Gérard of Alsace who, enchanted by the idyllic surroundings, built a hunting lodge there. Even thought this hypothesis is not corroborated by historians, it is easy to believe for visitors when they discover the superb natural surroundings of Gérardmer, between the lake and Les Ballons des Vosges park. On your way around the town, discover a profound sense of architectural harmony which invites you to slow down and truly appreciate life. Right by our hotel, discover the delightful Place du Vieux Gérardmé where the market takes place. The superb Saint-Barthélemy church overlooks the square. The church is particularly majestic with its square spire and two organs inside.

During your stay at our hotel, take the time to make the most of the great outdoors with a walk around Lake Gérardmer. The largest natural lake in the Vosges, it covers 115 hectares, and its circumference is around 6 kilometres. On the way, make a quick detour to climb the 15 m Mérelle observatory tower and, from the top of it, take in the panoramic view of the lake and city. In winter, head to Gérardmer ski domain, just a few minutes away for thrilling days of downhill skiing, cross-country skiing, or snow shoe trekking. Returning from your excursions, kick back and relax in the hotel pool.

All year round, you will also be able to enjoy a quantity of cultural events organized by the family-friendly Gérardmer resort such as the Fantasy Film Festival, in January, or the Rencontres du Cinéma Film Festival in April.